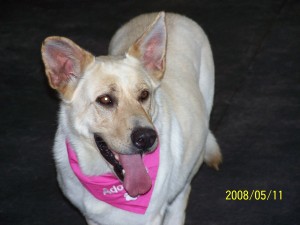 Sasha is a great girl, she is a very kind and caring soul. She and a baby kitten were rescued from the same shelter. The kitten (named Hope) was crying in fear and Sasha jumped up to mother her. Sasha was whimpering while licking the kittens face to calm the little baby down. The volunteers watch in amazement, we could not believe our eyes!
Sasha is about 4 years old and approximately 85 pounds. She loves children and gets along well with other animals. Sasha is up to date on shots and spayed. Now all she needs is a wonderful family and a few kids to call her own.
Sasha will jump a 4 foot fence. She needs to be let outside on a cable or go to a home with a 6foot fence.