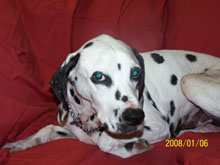 Rocket is 7 years old and was given up by his family of 7 years due to a loss of the family home. He is very sad and seems to miss them very much. Rocket was raised with children and is very kind and patient with kids, and other dogs. He needs a family that is willing to keep him for the rest of his life. He is heart broken over the loss of his previous family, and I pray he never has to go through this again.
Rocket is up to date on all his shots and is just waiting for another family with children to care for and love again. If you think that Rocket could be an addition to your family, Please fill out the adoption form and we will contact you very soon to see this loving boy.
He also gets along great with cats and enjoys to cuddle with them. He is a great companion for anyone that has time to make him the Prince he deserves to be.